Introduction
The chest in the upper half of the body comprises various structures that each have a job to keep the body functioning. The chest has different large muscles surrounding the ribcage and helps protect the vital organs that allow the host to breathe. The essential organs protected by the ribcage and the chest muscles include the heart and the lungs. These two organs aid the chest with blood circulation, breathing, and digestion to keep the body moving and functional. When injuries or chronic conditions begin to affect the chest, it can cause the muscles surrounding the ribcage to contract and tighten, causing the heart and lungs to work harder and causing various issues to affect the body. This can lead to chronic symptoms in the chest and affect a person's life. Today's article looks at the pectoralis major muscle in the chest, how trigger point pain is associated with chest pain, and how to manage trigger points in the chest. We refer patients to certified providers who specialize in chest pain therapies to aid many people suffering from trigger point pain affecting the pectoralis major muscles. We brief patients by referring them to our associated medical providers based on their examination when appropriate. We indicate that education is a great solution to asking our providers profound and complex questions at the patient's request. Dr. Alex Jimenez, D.C., takes note of this information as an educational service only. Disclaimer
The Pectoralis Major Muscles In The Chest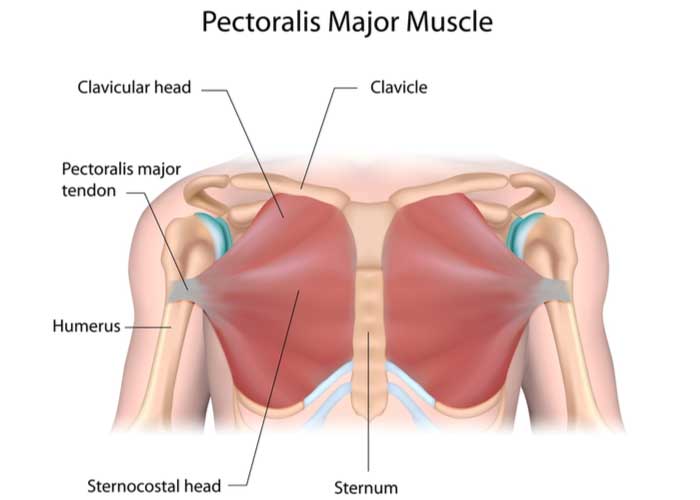 Have you been experiencing unexplainable chest pains that mimic heart issues? Do you feel muscle stiffness near your clavicle? Or do your chest muscles feel tenser and sorer than usual? Many of these issues affecting the chest could result from trigger points associating with the chest along the pectoralis major muscles. The pectoralis major is the superior and largest muscle in the chest wall's front area. This muscle looks like a thick fan that surrounds the clavicle and works with the chest and arms to provide mobility and power to the upper body. Studies reveal that the pectoralis major muscle plays an important role in upper limb movements. To that point, it can help with the adduction and medial rotation of the arm, according to the book by Dr. Travell, M.D. "Myofascial Pain and Dysfunction," the pectoralis muscle works with the rest of the chest muscles while being assisted by the teres major and minor muscles, the anterior and posterior deltoid muscles, the subscapularis muscles, and the tricep muscles. The pectoralis major muscles can also be affected by multiple issues affecting the chest and the rest of the upper half of the body.
Trigger Point Pain Associated With The Chest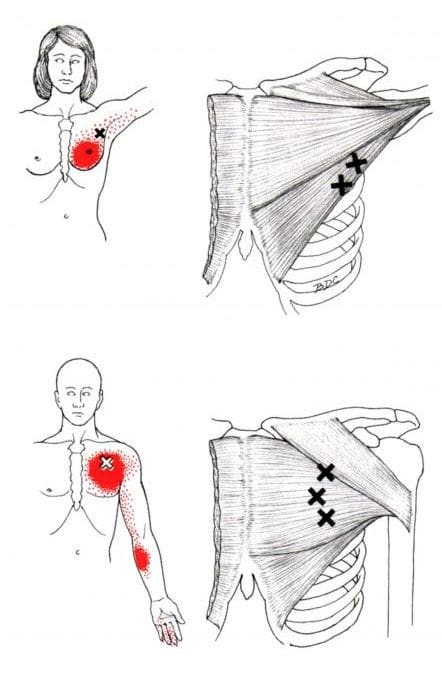 When the pectoralis major muscles are affected by various issues, they can mimic other chronic conditions that are causing referred pain in different body areas. This is known as trigger point pain, and it can cause overlapping risk profiles on the pectoralis major muscles that can affect the chest. Trigger points are slightly difficult to diagnose as many factors, like repetitive motions or lifting heavy objects, can cause the affected muscles to develop tiny knots along the muscle fibers and cause pain-like symptoms. Many people with chest pains often complain that something is affecting their heart as they place their hands on their chest and gently rub the affected area. However, when their doctors examine them, the issue is not their hearts but their chest muscles. Studies reveal that trigger points affecting the affected muscle can mimic issues like cardiovascular dysfunction in the heart. To that point, active trigger points in the pectoralis major muscle can cause somato-visceral pain to the heart, mimicking cardiovascular issues like paroxysmal arrhythmia. It can also cause visceral-somatic pain where the heart suffers from cardiovascular problems affecting the pectoralis major muscles.
---
Trigger Point Therapy On The Pectoralis Major-Video
Have you been dealing with chest pains that cause you to hunch over? Does your chest seem to feel tight when you stretch? Or have your chest muscles feel tender to the touch? These pain symptoms are caused by trigger points affecting the pectoralis muscles. Trigger points are generated when a person overuses their muscles from daily activities or succumbs to muscle injuries that cause referred pain in different body areas. So trigger points affecting the pectoralis major muscle may cause chest pains. The video above explains the pectoralis muscles and where the trigger points are located that cause referred pain to the shoulders and the rest of the upper half of the body. Trigger points associated with the chest along the pectoralis major muscles can be treatable through various treatments and techniques that can reduce the symptoms and prevent trigger points from forming along the affected muscle in the future.
---
Ways To Manage Trigger Points On The Chest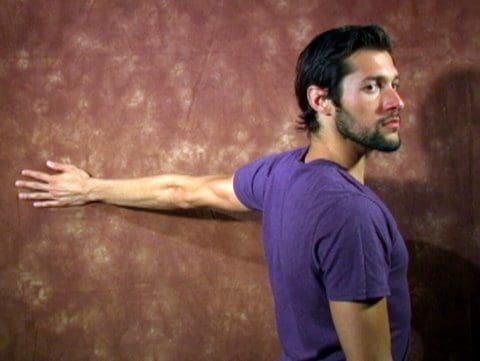 When trigger points affect the pectoralis major muscles, they can invoke chest pain-like symptoms that resemble a cardiovascular disorder. Fortunately, pain specialists like chiropractors, massage therapists, and physiotherapists can utilize various techniques to help reduce the pain caused by trigger points. Studies reveal that when local and referred pain affects the pectoralis major muscle, multiple massage treatments targeting the trigger points can help alleviate the symptoms causing chest pains. Another way people can manage trigger points is by stretching the pectoralis major muscle to relieve tension and soreness in the chest. Incorporating various stretching techniques to alleviate chest pain can help loosen up the stiff muscles and warm them up before a vigorous workout. This allows the pectoralis muscles to provide optimal output on a person's health and wellness.
Conclusion
The pectoralis major is a thick fan-shaped muscle located on the chest. This muscle works with the shoulders and upper half of the body while protecting the heart and the lungs from various injuries and chronic conditions. When these muscles become affected by injuries or chronic conditions, they can develop trigger points along the chest, causing referred pain to the pectoralis major muscles. This can lead to somato-visceral and visceral-somatic pain symptoms in the chest and make many individuals miserable. Luckily pain specialists who can help manage trigger points along the affected muscle utilize various techniques to reduce the symptoms and prevent trigger points from forming in the affected muscle again. This allows the individual to continue with their daily activities without worrying about chest pains.
References
Haładaj, Robert, et al. "Anatomical Variations of the Pectoralis Major Muscle: Notes on Their Impact on Pectoral Nerve Innervation Patterns and Discussion on Their Clinical Relevance." BioMed Research International, Hindawi, 2 Apr. 2019, www.ncbi.nlm.nih.gov/pmc/articles/PMC6466946/.
Moraska, Albert F, et al. "Responsiveness of Myofascial Trigger Points to Single and Multiple Trigger Point Release Massages: A Randomized, Placebo Controlled Trial." American Journal of Physical Medicine & Rehabilitation, U.S. National Library of Medicine, Sept. 2017, www.ncbi.nlm.nih.gov/pmc/articles/PMC5561477/.
Simons, David G. "Cardiology and Myofascial Trigger Points: Janet G. Travell's Contribution." Texas Heart Institute Journal, U.S. National Library of Medicine, 2003, www.ncbi.nlm.nih.gov/pmc/articles/PMC152827/.
Solari, Francesca, and Bracken Burns. "Anatomy, Thorax, Pectoralis Major Major." In: StatPearls [Internet]. Treasure Island (FL), StatPearls Publishing, 26 July 2021, www.ncbi.nlm.nih.gov/books/NBK525991/.
Travell, J. G., et al. Myofascial Pain and Dysfunction: The Trigger Point Manual: Vol. 1:Upper Half of Body. Williams & Wilkins, 1999.
Disclaimer
Professional Scope of Practice *
The information herein on "The Effects Of Trigger Points Affecting The Chest" is not intended to replace a one-on-one relationship with a qualified health care professional or licensed physician and is not medical advice. We encourage you to make healthcare decisions based on your research and partnership with a qualified healthcare professional.
Blog Information & Scope Discussions
Our information scope is limited to Chiropractic, musculoskeletal, physical medicines, wellness, contributing etiological viscerosomatic disturbances within clinical presentations, associated somatovisceral reflex clinical dynamics, subluxation complexes, sensitive health issues, and/or functional medicine articles, topics, and discussions.
We provide and present clinical collaboration with specialists from various disciplines. Each specialist is governed by their professional scope of practice and their jurisdiction of licensure. We use functional health & wellness protocols to treat and support care for the injuries or disorders of the musculoskeletal system.
Our videos, posts, topics, subjects, and insights cover clinical matters, issues, and topics that relate to and directly or indirectly support our clinical scope of practice.*
Our office has reasonably attempted to provide supportive citations and has identified the relevant research study or studies supporting our posts. We provide copies of supporting research studies available to regulatory boards and the public upon request.
We understand that we cover matters that require an additional explanation of how it may assist in a particular care plan or treatment protocol; therefore, to further discuss the subject matter above, please feel free to ask Dr. Alex Jimenez, DC, or contact us at 915-850-0900.
We are here to help you and your family.
Blessings
Dr. Alex Jimenez DC, MSACP, RN*, CCST, IFMCP*, CIFM*, ATN*
email: coach@elpasofunctionalmedicine.com
Licensed as a Doctor of Chiropractic (DC) in Texas & New Mexico*
Texas DC License # TX5807, New Mexico DC License # NM-DC2182
Licensed as a Registered Nurse (RN*) in Florida
Florida License RN License # RN9617241 (Control No. 3558029)
Presently Matriculated: ICHS: MSN* FNP (Family Nurse Practitioner Program)
Dr. Alex Jimenez DC, MSACP, RN* CIFM*, IFMCP*, ATN*, CCST
My Digital Business Card