Spondyloarthritis is a group of inflammatory, immune-mediated diseases that cause chronic low back pain, inflammation, irritating aches, and pains. The conditions mostly affect the spine but can affect joints in the arms, legs, hips, skin, eyes, and intestines. Spondylitis types can significantly affect daily function, physical activity and compromise bone health.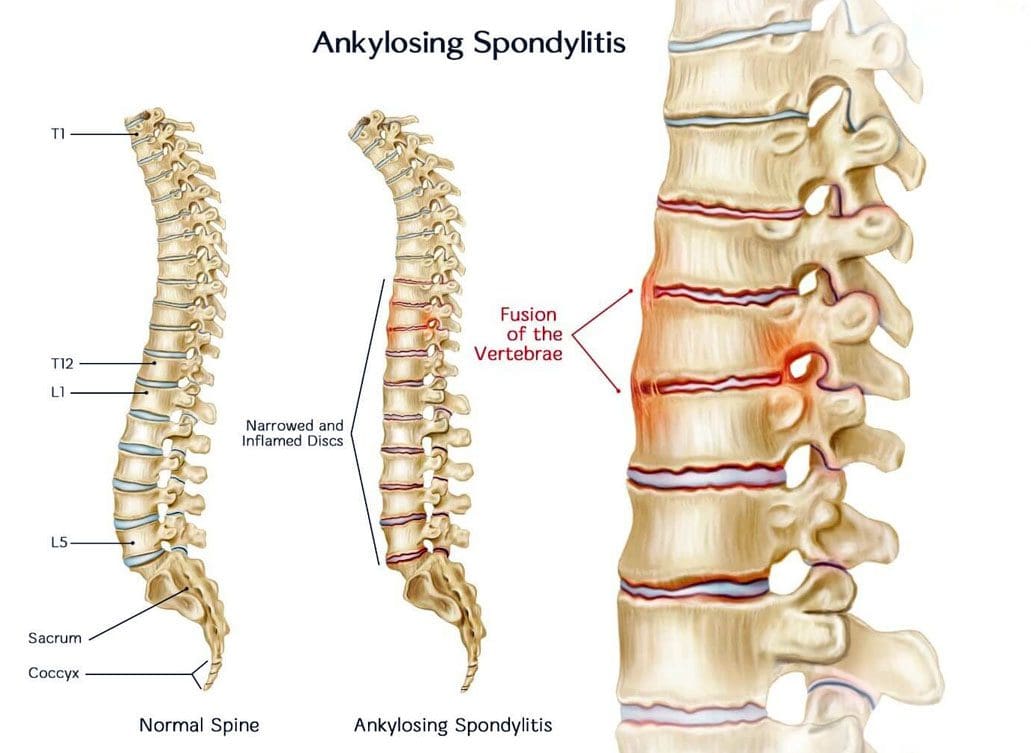 Spondylitis Types
The main types include:
Ankylosing spondylitis
Psoriatic arthritis
Enteropathic arthritis
Reactive arthritis
Juvenile spondylitis
Undifferentiated spondylitis
Axial Spondylitis vs. Peripheral Spondylitis Types
Spondylitis conditions are classified as axial – axSpA or peripheral – pSpA.
Axial means relating to the body's central region, as in the trunk and head.
Axial spondyloarthritis is arthritis and inflammation in the hips and spine.
The condition starts before age 45.
The pain typically starts in the low back but can begin in the neck or other regions.
Characterized by back pain, usually in the lower back and/or buttocks.
Morning back stiffness lasting 30 minutes or longer.
Sacroiliac joint inflammation can also present.
The back pain gradually progresses.
Lasts longer than three months.
Improves with physical movement, not with rest.
Peripheral spondyloarthritis is arthritis and inflammatory pain in the peripheral joints and tendons and does not include the spine.
Individuals can have peripheral and axial spondylitis symptoms simultaneously.
Diagnosis depends on whether symptoms are primarily peripheral or axial.
Spondylitis and Spondylosis
Spondylosis and spondylitis are similar in they cause pain and inflammation in the back and hips. The difference is in each condition's triggers.
Spondylitis is a disease in which the body's immune system degrades joints, causes inflammation, overproduces bone formation, and causes bone fusion.
Spondylosis is a category of arthritis that presents as the spine ages from normal wear and tear.
It happens during the degeneration of the spine's discs and joints.
It also presents when bone spurs develop on the spine's vertebrae.
Ankylosing Spondylitis
Ankylosing spondylitis is the most common form of arthritis affecting the spine, other joints, and body regions. The condition causes spinal joint inflammation causing extreme discomfort and chronic pain. In some cases, the inflammation progresses to ankylosis, where spine sections fuse and become immobile. Other body areas that can trigger inflammation include:
The ribs
Heels
Shoulders
Hips
Small joints of the feet and hands.
Ankylosing spondylitis symptoms vary from person to person. Common early symptoms include:
There is general discomfort, appetite loss, and mild fever early in the condition.
Persistent stiffness and pain in the buttocks and low back, gradually progressing over a couple of weeks or months.
The pain and stiffness can travel into the neck and spine within months or years.
The pain is usually spread out and dull.
The stiffness and pain are worse in the morning and night and improve with light exercise or a warm shower.
The pain typically becomes chronic, lasts for a minimum of 3 months, and can be felt on both sides.
Tenderness and pain in the hips, thighs, shoulder blades, heels, and ribs may also occur.
Treatment approaches include applications of ice and heat to reduce swelling, increase circulation, and decrease joint pain, posture exercises, stretches, physical therapy, and medication.
Psoriatic Arthritis
Psoriatic arthritis causes swelling, pain, and inflammation in the small joints of the hands and feet; however, the joints of the knees, ankles, and wrists can also be affected. Psoriasis is a rash that causes scaly skin patches.
Individuals can develop dactylitis when a finger or toe swells between the surrounding joints.
Spinal stiffness and pain can present.
Typically the ends of the finger joints are most affected and experience pain and inflammation.
The condition also includes fingernail and toenail symptoms.
Medications frequently utilized to treat ankylosing spondylitis can be used.
Exercise helps preserve the range of motion and maintain strength.
Isometric exercises work muscles without joint motion reducing the risk of further injury to inflamed joints.
Occupational and physical therapy can significantly assist in optimizing arthritic joint function.
Enteropathic Spondylitis
Enteropathic Arthritis is chronic inflammatory arthritis linked to inflammatory bowel disease. The most recognized are Crohn's and ulcerative colitis.
The peripheral limb joints and sometimes the whole spine are the most prevalent body areas afflicted with enteropathic spondylitis.
The main symptom is intestine inflammation, including bowel and joint pain and/or inflammatory back pain.
Other symptoms can include weight loss, blood in the stool, abdominal pain, and/or chronic diarrhea.
Managing enteropathic arthritis typically means managing the underlying bowel disease.
Juvenile Spondyloarthritis
Juvenile spondyloarthritis is a group of childhood rheumatic diseases that cause arthritis before age 16 and can continue through adulthood. Juvenile spondyloarthritis encompasses:
Enteropathic arthritis
Enthesitis-related arthritis
Undifferentiated spondyloarthritis
Psoriatic arthritis
Reactive arthritis
Juvenile ankylosing spondylitis
Juvenile spondyloarthritis causes inflammation and pain in joints in the lower body, like the ankles, hips, knees, and pelvis. Other body areas that could be affected include:
The bowels
Eyes
Skin
Spine
Lethargy and fatigue can also present. The symptoms can be unpredictable and episodic, appearing and disappearing without a specific cause. The condition cycles between flare-ups and remission. Common treatment approaches include:
Medication
Exercise
Posture training
Physical therapy, medication
Ice and heat to decrease joint pain and relax muscles.
In severe cases, surgery could be recommended.
Reactive Arthritis or Reiter's Syndrome
Reactive arthritis is arthritis that causes pain and inflammation in the mucous membranes, bladder, skin, joints, eyes, and genitals.
Reactive arthritis is believed to be a reaction to an infection, usually in the gastrointestinal or urinary tract.
Reactive arthritis does not affect the sacroiliac joints and spine in most cases.
Reactive arthritis is typically treated with nonsteroidal anti-inflammatory medications, steroids, and rheumatoid arthritis medications.
A physician could prescribe antibiotics if a bacterial infection brought on reactive arthritis.
Undifferentiated Spondyloarthritis
Undifferentiated spondyloarthritis is where the signs and symptoms of spondylitis don't meet the criteria for a specific rheumatoid disorder. Individuals diagnosed with undifferentiated spondyloarthritis will have one or more of the symptoms that include:
Fatigue
Back inflammation
Back pain
Buttock pain that alternates or presents on both sides.
Swollen toes or fingers
Heel pain
Arthritis in the small joints.
Arthritis in the large limb joints.
Enthesitis or inflammation where the ligament or tendon connects to the bone.
Eye inflammation
Individuals can also present symptoms of other spondylitis types, like psoriatic or ankylosing.
Treatment approaches include:
Exercise
Physical therapy
Posture training
Ice and heat to decrease joint pain and loosen up muscles.
---
Spondylitis Types Diagnosis of Spondyloarthritis
---
References
Carron, Philippe, et al. "Peripheral spondyloarthritis: a neglected entity-state of the art." RMD open vol. 6,1 (2020): e001136. doi:10.1136/rmdopen-2019-001136
Dougados, Maxime, and Dominique Baeten. "Spondyloarthritis." Lancet (London, England) vol. 377,9783 (2011): 2127-37. doi:10.1016/S0140-6736(11)60071-8
Gill, Tejpal, et al. "The intestinal microbiome in spondyloarthritis." Current opinion in rheumatology vol. 27,4 (2015): 319-25. doi:10.1097/BOR.0000000000000187
Rosenbaum, James T. "The eye in spondyloarthritis✰." Seminars in arthritis and rheumatism vol. 49,3S (2019): S29-S31. doi:10.1016/j.semarthrit.2019.09.014
Seo, Mi Ryoung et al. "Delayed diagnosis is linked to worse outcomes and unfavorable treatment responses in patients with axial spondyloarthritis." Clinical rheumatology vol. 34,8 (2015): 1397-405. doi:10.1007/s10067-014-2768-y
Sharip, Aigul, and Jeannette Kunz. "Understanding the Pathogenesis of Spondyloarthritis." Biomolecules vol. 10,10 1461. 20 Oct. 2020, doi:10.3390/biom10101461
Professional Scope of Practice *
The information herein on "Spondylitis Types Injury Medical Chiropractic Sciatica Clinic" is not intended to replace a one-on-one relationship with a qualified health care professional or licensed physician and is not medical advice. We encourage you to make healthcare decisions based on your research and partnership with a qualified healthcare professional.
Blog Information & Scope Discussions
Our information scope is limited to Chiropractic, musculoskeletal, physical medicines, wellness, contributing etiological viscerosomatic disturbances within clinical presentations, associated somatovisceral reflex clinical dynamics, subluxation complexes, sensitive health issues, and/or functional medicine articles, topics, and discussions.
We provide and present clinical collaboration with specialists from various disciplines. Each specialist is governed by their professional scope of practice and their jurisdiction of licensure. We use functional health & wellness protocols to treat and support care for the injuries or disorders of the musculoskeletal system.
Our videos, posts, topics, subjects, and insights cover clinical matters, issues, and topics that relate to and directly or indirectly support our clinical scope of practice.*
Our office has reasonably attempted to provide supportive citations and has identified the relevant research study or studies supporting our posts. We provide copies of supporting research studies available to regulatory boards and the public upon request.
We understand that we cover matters that require an additional explanation of how it may assist in a particular care plan or treatment protocol; therefore, to further discuss the subject matter above, please feel free to ask Dr. Alex Jimenez, DC, or contact us at 915-850-0900.
We are here to help you and your family.
Blessings
Dr. Alex Jimenez DC, MSACP, RN*, CCST, IFMCP*, CIFM*, ATN*
email: coach@elpasofunctionalmedicine.com
Licensed as a Doctor of Chiropractic (DC) in Texas & New Mexico*
Texas DC License # TX5807, New Mexico DC License # NM-DC2182
Licensed as a Registered Nurse (RN*) in Florida
Florida License RN License # RN9617241 (Control No. 3558029)
Presently Matriculated: ICHS: MSN* FNP (Family Nurse Practitioner Program)
Dr. Alex Jimenez DC, MSACP, RN* CIFM*, IFMCP*, ATN*, CCST
My Digital Business Card