Vitamin B12 and Shoulder Injuries. Most shoulder injuries involve the muscles, ligaments, and tendons. Individuals that perform repetitive arm motions/movements constantly lift objects as part of their job, and athletes that use their arms repetitively have an increase in developing/experiencing shoulder injuries and problems. Shoulder injuries are commonly caused by physical activities that involve:
Excessive motions
Repetitive motions
Overhead motions
Sports like swimming, tennis, pitching, and weightlifting involve these repetitive arm/shoulder motions contributing to shoulder injuries.
Injuries can also be brought on by everyday activities like washing/painting walls, hanging curtains/plants, and gardening.

Shoulder Injury Symptoms
There are a few ways to analyze the situation of discomfort and/or pain in and around the shoulder.
Is there stiffness in or around the shoulder?
Can you rotate the arm through the normal range of active movement?
Does the shoulder feel like it could pop out or slide out of its socket?
Is there a lack of strength in the shoulder for normal daily activities?
If yes was an answer to any of these questions, individuals should consult an orthopedic surgeon and/or chiropractor for assistance determining the problem and its severity.
Injury Categories
Individuals often underestimate the extent of an injury and usually push/play through the discomfort and pain. This is how powerful the brain is as it ignores steady pain, weakness, or limitation of joint motion. Shoulder injuries and problems are grouped into the following categories.
Instability
This is when a shoulder joint moves/shifts or is forced out of its normal position. This is called instability and can result in the dislocation of the joints in the shoulder. Individuals will experience pain when raising their arms. It can feel as if the shoulder is slipping out.
Impingement
Impingement is caused by excessive rubbing/friction of the muscles against the top part of the shoulder blade, known as the acromion. Impingement can happen during physical activities that require excessive overhead arm motion. Medical examination and care are recommended for inflammation, which could lead to a more serious injury.
Injuries
Bursitis
The bursa is the fluid-filled sac that cushions the joints. These can become swollen and irritated from repetitive motions, falls, or other injuries. Individuals will notice the pain most when moving/rotating the shoulder.
Cartilage tear
The cartilage – the rubbery padding that goes around the rim of the shoulder joint can get damaged from repetitive motions, overextending, falls, or intense force to the shoulder. With this type of injury, individuals feel pain when reaching overhead, weakness, and/or catching, locking, and grinding feelings.
Rotator cuff tear
The rotator cuff consists of muscles and tendons that hold the arm in place and allow lifting the arm up and overhead. It can get damaged through overuse, falls, and regular wear and tear with age. Pain often presents at night when lifting objects, and there could be a cracking sound when trying to move or rotate.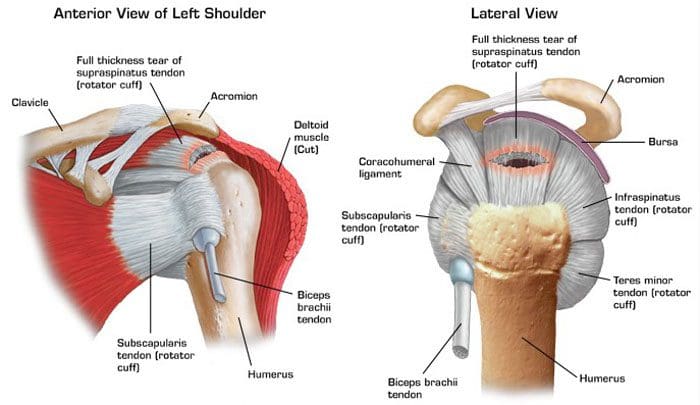 Frozen shoulder
This condition limits the joint's movement. Abnormal bands of tissue called adhesions build up in the joint and restrict movement. The shoulder can freeze up from not using it. This could be because pain or surgery causes an individual to use it less. This is when adhesions begin to build up.
Separation
This injury affects the joint where the collarbone and shoulder blade join. It is known as the acromioclavicular or AC joint. A fall or hard impact can tear the ligaments that hold it together. If the collarbone gets pushed out of place, a bump forms/develops on top of the shoulder.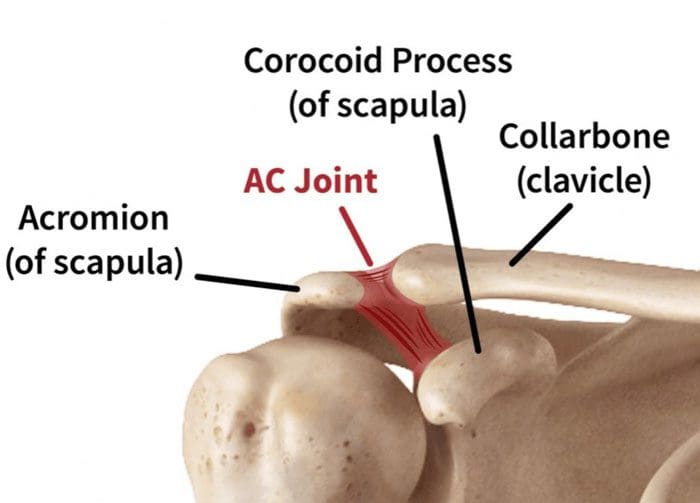 Fracture
A bone can break or crack from a vehicle accident, fall, or takes a hard hit. The most common fractures are to the clavicle – collarbone and the humerus – arm bone closest to the shoulder. This type of injury causes a great deal of pain and bruising. If the collarbone is broken, the shoulder can sag with the inability to lift the arm.
Vitamin B12
Rotator cuff injuries involve dysfunctional and/or damaged connective tissue. This could be from impaired collagen synthesis. Vitamin B12 helps combat inflammation and plays a significant role in collagen formation. Low vitamin B12 status can be directly linked to pro-inflammatory cytokines. This means that a lack of vitamin B12 increases inflammation.
Researchers followed a group of individuals to determine if their vitamin B12 levels correlated with an increased risk of a rotator cuff tear. To begin the study, levels of vitamin B12 were measured along with other nutrients that included:
Vitamin D
Zinc
Calcium
Magnesium
Folate
Homocysteine and blood sugar biomarkers were also measured, associated with B12 metabolism. Homocysteine is a metabolite that builds up in the blood when specific nutrients, like B12, folate, or B6, become deficient. Elevated levels of homocysteine can be harmful and cause damage to blood vessels and brain tissue when not detoxified properly. In the study, the homocysteine levels did not differ between the groups, but vitamin B12 levels were significantly different.
The patients that were included were a healthy group that did not have any rotator cuff injury during the study.
The second group experienced a rotator cuff tear that required surgery during the study.
Only vitamin B12 and vitamin D differed with the various nutrients measured, with the B12 and D being lower in the shoulder injury group.
Specifically, the B12 levels in the healthy group were 627 pg/m

L compared to

528 pg/mL

in the injured group. This was a 16% decrease.
These subclinical deficiencies are usually missed with traditional serum testing, which is why functional nutritional testing is clinically recommended.
---
Body Compositional Testing
---
American Society for Surgery of the Hand: Shoulder Pain.
American Academy of Family Physicians: Shoulder Pain.
BMC Musculoskeletal Disorders, April 2021
Cleveland Clinic: Rotator Cuff Tendonitis Shoulder Tendinitis.
Monica, James, et al. Acute Shoulder Injuries in Adults. American family physician vol. 94,2 (2016): 119-27.
OrthoInfo: Shoulder Pain and Common Shoulder Problems, Rotator Cuff and Shoulder Conditioning Program.
rofessional Scope of Practice *
The information herein on "Vitamin B12 and Shoulder Injuries" is not intended to replace a one-on-one relationship with a qualified health care professional, or licensed physician, and is not medical advice. We encourage you to make your own healthcare decisions based on your research and partnership with a qualified healthcare professional.
Blog Information & Scope Discussions
Our information scope is limited to Chiropractic, musculoskeletal, physical medicines, wellness, contributing etiological viscerosomatic disturbances within clinical presentations, associated somatovisceral reflex clinical dynamics, subluxation complexes, sensitive health issues, and/or functional medicine articles, topics, and discussions.
We provide and present clinical collaboration with specialists from a wide array of disciplines. Each specialist is governed by their professional scope of practice and their jurisdiction of licensure. We use functional health & wellness protocols to treat and support care for the injuries or disorders of the musculoskeletal system.
Our videos, posts, topics, subjects, and insights cover clinical matters, issues, and topics that relate to and support, directly or indirectly, our clinical scope of practice.*
Our office has made a reasonable attempt to provide supportive citations and has identified the relevant research study or studies supporting our posts. We provide copies of supporting research studies available to regulatory boards and the public upon request.
We understand that we cover matters that require an additional explanation of how it may assist in a particular care plan or treatment protocol; therefore, to further discuss the subject matter above, please feel free to ask Dr. Alex Jimenez DC or contact us at 915-850-0900.
We are here to help you and your family.
Blessings
Dr. Alex Jimenez DC, MSACP, CCST, IFMCP*, CIFM*, ATN*
email: coach@elpasofunctionalmedicine.com
Licensed in: Texas & New Mexico*
Dr. Alex Jimenez DC, MSACP, CIFM*, IFMCP*, ATN*, CCST
My Digital Business Card