A Trendelenburg gait is an abnormal walking gait resulting from a defective or weakened hip abductor. The gluteal musculature is the primary musculature that includes the gluteus medius and gluteus minimus muscles. Weakness in these muscles causes sagging/dropping of the pelvis on the opposite side while walking. There will be a noticeable side-to-side motion if the glutes are too weak to support the body's weight when walking. It can look as though the individual is limping or missing a step. Individuals can minimize the effects with foot orthotics, core strengthening, chiropractic, and physical therapy.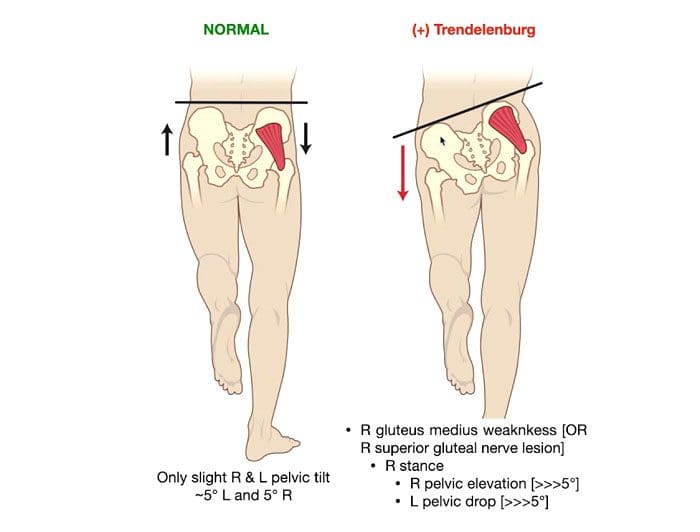 Trendelenburg Gait Causes
This gait often results from straining the hip abductor muscles during physical activity. Exercises specifically for the glutes done improperly are a common cause. When improper exercise form is the cause, the abnormal gait usually goes away as muscle inflammation fades. The gait can also present after total hip replacement surgery, as the procedure requires incisions in the gluteus medius muscle. This can weaken the muscle causing an abnormal gait. Weakness in these muscles can also be caused by:
Nerve damage or dysfunction in the nerves that run through the gluteal minimus and medius muscles.
Osteoarthritis is a type of arthritis that occurs when joint cartilage starts to wear down.
Muscular dystrophy is a condition that causes the muscles and bones to become weak over time.
Poliomyelitis is a condition associated with polio that weakens the muscles.
Cleidocranial dysostosis is a condition present from birth that can cause your bones to develop improperly.
Symptoms
The walking gait is made up of two phases:
Swing – When one leg moves forward.
Stance – The other leg stays still and maintains balance.
The main symptom of Trendelenburg gait can be seen when one leg swings forward and the hip drops down and move outward. This is because the hip abductor of the other leg is too weak to support the weight. Individuals may lean back or to the side slightly when walking to maintain balance, or they may lift the foot higher off the ground with each step to avoid losing balance or tripping as the pelvis shifts unevenly.
Diagnosis
Abnormal hip movement during a swing of one or both legs can give a doctor enough evidence to diagnose a Trendelenburg gait. A doctor will observe the individual's walk in front and behind to get a detailed view. A doctor will also use the Trendelenburg test to diagnose the condition. The doctor will instruct the individual to lift one leg for 30 seconds. If the individual cannot keep the hips parallel with the ground while lifting, it could indicate Trendelenburg gait. X-rays of the hip will be used to identify any causes of weakness in the gluteus minimus or medius.
Treatment Options
Treatment options will depend on the severity and cause of the gait.
Medication
If the gait is causing pain, over-the-counter nonsteroidal anti-inflammatory NSAIDs, like ibuprofen or acetaminophen, will help ease symptoms.
In severe cases, a doctor may prescribe cortisone injections to help reduce pain.
Foot Orthotics
A doctor could also recommend using a foot orthotic in one or both shoes to compensate the hip abductor muscle weakness.
Chiropractic, Physical Therapy, and Exercise
Chiropractic and physical therapy can help adjust, realign, and strengthen the muscles to regain control of the Trendelenburg gait. The chiropractor or physical therapist will move the legs in various directions to help the joints become more accustomed to moving in certain directions and increase muscle strength and resistance. Exercises that can strengthen the hip abductor muscles include:
Lie on the side and extend the leg straight out.
Lie on the floor and move one leg up, over the other, and back in the opposite direction.
Step sideways and onto an elevated surface, then back down again.
Talk with a doctor or chiropractor before beginning any new exercise routine so they can recommend specific exercises and educate on proper form.
Complications
If left untreated, moderate-to-severe cases of Trendelenburg gait can become debilitating, leading to severe complications. These include:
Pinched nerves.
Pain, stiffness, or grinding in the hips.
Loss of range of motion in the hips and gait.
Losing the ability to walk, which could require the use of a walker or wheelchair.
Paralysis of the lower body.
Osteonecrosis or death of bone tissue.
Trendelenburg gait is treatable with special shoes, orthotics, and exercises designed to strengthen the hip abductor muscles. Chiropractic and physical therapy can help limit the condition's impact on the body's health, the ability to walk, and reduce the risk of complications.
---
Body Composition
---
Heart-Healthy Foods
Citrus
The bright and tangy fruits are packed with vitamins and unique plant compounds known as polyphenols that can help lower blood pressure naturally.
However, it's important to note that grapefruit and grapefruit juice could interact with certain prescription medications.
Beans and Lentils
Foods high in magnesium, potassium, and fiber can help maintain healthy blood pressure.
This is where beans and legumes come in, as they are high in fiber, potassium, and magnesium.
Individuals that swapped beans and lentils noticed a lower blood pressure, whether or not they had been diagnosed with hypertension.
Pumpkin Seeds
These seeds are packed with potassium, magnesium, and arginine.
Arginine is an amino acid used to make nitric oxide, which helps the blood vessels relax and dilate, allowing lower blood pressure.
A study found that postmenopausal women who took 3 grams of pumpkin seed oil daily for six weeks saw a significant decrease in their systolic blood pressure.
Garlic
Garlic contains nitric oxide, which has been shown to relax blood vessels.
Kyolic garlic, in particular, has been shown to help with arterial stiffness and can improve cholesterol levels.
References
Feyh, Andrew et al. "Role of Dietary Components in Modulating Hypertension." Journal of Clinical & experimental cardiology vol. 7,4 (2016): 433. doi:10.4172/2155-9880.1000433
Gait abnormalities. (n.d.).stanfordmedicine25.stanford.edu/the25/gait.html
Gandbhir, Viraj N., et al. "Trendelenburg Gait." StatPearls, StatPearls Publishing, 19 August 2021.
Giangarra CE, et al. (2018). Clinical orthopedic rehabilitation: A team approach.sciencedirect.com/science/book/9780323393706
Gilliss AC, et al. (2010). Use of osteopathic manipulative treatment to manage compensated Trendelenburg gait caused by sacroiliac somatic dysfunction.
jaoa.org/article.aspx?articleid=2093879
Maricelli JW, et al. (2016). Trendelenburg-like gait, instability and altered step patterns in a mouse model for limb-girdle muscular dystrophy 2i. DOI:
10.1371/journal.pone.0161984
Mayo Clinic Staff. (2017). Osteoarthritis.mayoclinic.org/diseases-conditions/osteoarthritis/home/ovc-20198248
Michalopolous N, et al. (2016). A personalized monitoring and recommendation framework for kinetic dysfunctions: The Trendelenburg gait. DOI: 10.1145/3003733.3003786
rofessional Scope of Practice *
The information herein on "Trendelenburg Gait" is not intended to replace a one-on-one relationship with a qualified health care professional, or licensed physician, and is not medical advice. We encourage you to make your own healthcare decisions based on your research and partnership with a qualified healthcare professional.
Blog Information & Scope Discussions
Our information scope is limited to Chiropractic, musculoskeletal, physical medicines, wellness, contributing etiological viscerosomatic disturbances within clinical presentations, associated somatovisceral reflex clinical dynamics, subluxation complexes, sensitive health issues, and/or functional medicine articles, topics, and discussions.
We provide and present clinical collaboration with specialists from a wide array of disciplines. Each specialist is governed by their professional scope of practice and their jurisdiction of licensure. We use functional health & wellness protocols to treat and support care for the injuries or disorders of the musculoskeletal system.
Our videos, posts, topics, subjects, and insights cover clinical matters, issues, and topics that relate to and support, directly or indirectly, our clinical scope of practice.*
Our office has made a reasonable attempt to provide supportive citations and has identified the relevant research study or studies supporting our posts. We provide copies of supporting research studies available to regulatory boards and the public upon request.
We understand that we cover matters that require an additional explanation of how it may assist in a particular care plan or treatment protocol; therefore, to further discuss the subject matter above, please feel free to ask Dr. Alex Jimenez DC or contact us at 915-850-0900.
We are here to help you and your family.
Blessings
Dr. Alex Jimenez DC, MSACP, CCST, IFMCP*, CIFM*, ATN*
email: coach@elpasofunctionalmedicine.com
Licensed in: Texas & New Mexico*
Dr. Alex Jimenez DC, MSACP, CIFM*, IFMCP*, ATN*, CCST
My Digital Business Card