Introduction
Many individuals utilize the lower half of their bodies to go to different places and use the various surrounding muscles that provide stability on the hips and low back while supporting the upper body's weight. Along the lower back is the buttock region, where the gluteal muscles help stabilize the pelvis, extend the hips, and rotate the thighs. The gluteal muscles also help shape and support the spine and have an erect posture in the body. One of the gluteal muscles that support the lower body is the gluteus medius, which can succumb to injuries and strain when overused or strained. This leads to developing trigger points that can cause various issues in the lower extremities and lead to corresponding chronic conditions. Today's article focuses on the gluteus medius muscles, how the lumbago is associated with gluteus medius trigger pain, and various techniques to manage trigger points along the gluteus medius muscle. We refer patients to certified providers who incorporate multiple methods in the lower body extremities, like butt and low back pain treatments related to trigger points, to aid individuals dealing with pain symptoms along the gluteus medius muscles near and surrounding the body's lower extremities. We encourage and appreciate patients by referring them to associated medical providers based on their diagnosis, especially when it is appropriate. We understand that education is an excellent solution to asking our providers complex questions at the patient's request. Dr. Jimenez, D.C., utilizes this information as an educational service only. Disclaimer
What Is The Gluteus Medius?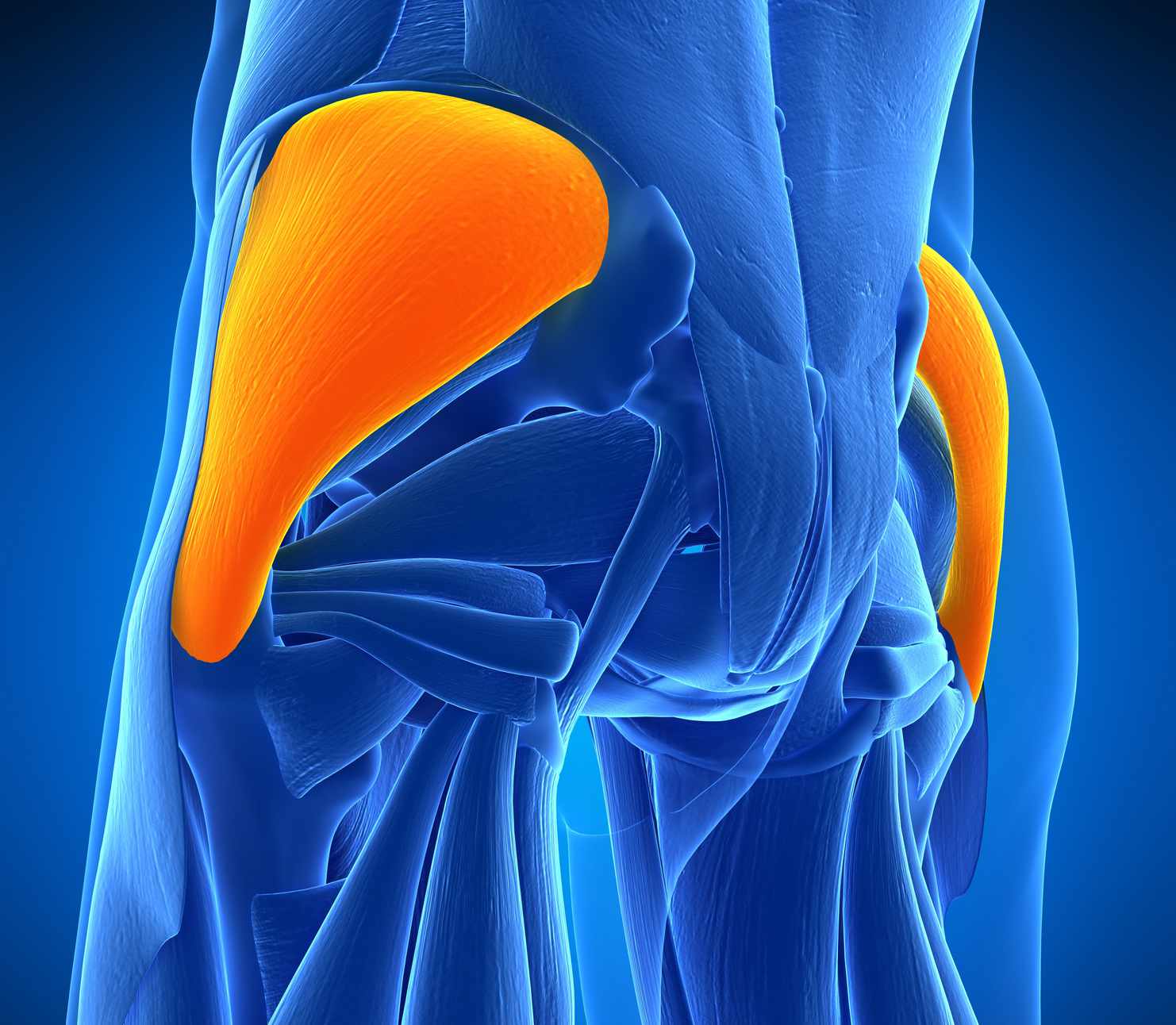 Have you been experiencing pain near your buttock and lower back? Have you been feeling unstable when you are walking? What about feeling pain in your tailbone that makes it unbearable to sit down? Many of these issues are associated with referred pain caused by trigger points affecting the gluteus medius. As part of the gluteal muscle region, the gluteus medius lies between the gluteus maximus and minimus is a flat, triangular muscle and is the primary hip abductor. The gluteus medius and minimus work together for internal rotation for the thighs and lateral rotation for the knees when they are extended. The gluteus medius muscles also help stabilize the pelvis, while the trunk maintains an upright position when the legs are in motion. Studies reveal that the gluteus medius is a key lateral hip muscle that correlates with muscle function with other muscle groups like the quadriceps and abdominal muscles. When injuries or not activating the gluteal muscles often, various muscle issues can cause problems to the gluteus medius muscles. 
Lumbago Associated With Gluteus Medius Trigger Pain
Dysfunction in the hips can lead to various issues that can either be acute or chronic, depending on how severely the muscles have been overused or injured. Studies reveal that low back pain has been identified as the leading contributor to disability and when there is dysfunction in the lumbopelvic-hip complex, causing a reduction in gluteus medius strength. When the gluteus medius muscles have become overused or injured through trauma, it can develop trigger points on the muscle causing low back pain issues. When trigger points affect the gluteus medius, additional studies reveal that latent trigger points along the gluteus medius muscles may cause joint movement limitation while causing overload by affecting muscle activation from the hips.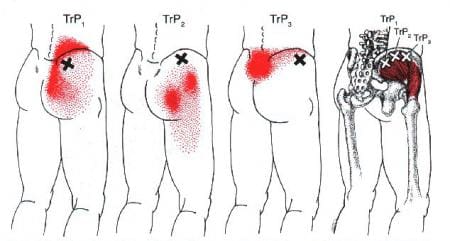 According to Dr. Janet G. Travell, M.D.'s book, "Myofascial Pain and Dysfunction: The Trigger Point Manual," patients with active trigger points along their gluteus medius complain of pain when they are doing normal actions like walking or sitting. The pressure from the trigger points along the gluteus medius causes the individual to be in a slumped position, causing them to be uncomfortable. This causes instability in the hips and lower body extremities, making many people miserable. The book also explains that the referred pain patterns caused by gluteus medius trigger points can overlap other chronic conditions like sacroiliac joint dysfunction, low back pain, and inflammation of the subgluteus medius bursa.
---
Trigger Point Of The Week: Gluteus Medius- Video
Have you been dealing with hip pain? Do you feel uncomfortable pain when walking or sitting down? Or Do you feel muscle stiffness or tenderness near your tailbone constantly? If you have been experiencing these painful symptoms constantly in your lower back or your hips, it could be due to your gluteus medius muscles being affected by trigger points. The video above overviews the gluteus medius location and how trigger points or myofascial pain syndrome causes referred pain to the lower back and hips. When trigger points affect the gluteus medius, the referred pain can overlap and correlate to low back and hip pain, thus causing various issues to the muscles surrounding the low back and buttock region. Regarding trigger points affecting the gluteus medius, they can be treatable through multiple techniques specific to the low back, buttocks, and hips.
---
Various Techniques For Managing Trigger Pain Along The Gluteus Medius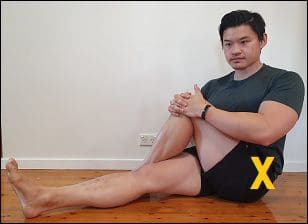 When issues of low back or hip pain begin to cause a problem in the lower extremities, the gluteus muscles can invoke pain-like symptoms in the affected muscle regions, thus developing trigger points. Even though trigger points are tricky to diagnose, they can be treated with various techniques that many people can incorporate into their daily lives. Exercises like resistance training on the gluteus medius can help improve hip abductor functionality and increase the strength of the gluteus medius. To manage trigger points along the gluteus medius, many people must do these corrective actions to reduce the pain that they may be causing to their glutes. When people are putting on pants, it is best to sit down and then put on their pants to prevent muscle strain on their hips and gluteus medius. Another corrective action is to move around after sitting down for a prolonged period to avoid trigger pain from developing. These corrective actions and techniques can help strengthen the lower body extremities and improve hip mobility. 
Conclusion
As part of the gluteal muscle region, the gluteus medius lies between the gluteus maximus and minimus by being a primary hip abductor. The gluteus medius helps with pelvic stabilization and helps the trunk maintain an upright position when the legs are in motion. When normal or traumatic factors affect the gluteus medius, it can develop trigger points on the muscle fibers, causing referred pain to the hips and lower back. Trigger points along the gluteus medius are manageable through various techniques that people can use to prevent hip and low back issues. These techniques can minimize the trigger points and strengthen the gluteus medius muscles in the glutes.
References
Bagcier, Fatih, et al. "The Relationship between Gluteus Medius Latent Trigger Point and Muscle Strength in Healthy Subjects." Journal of Bodywork and Movement Therapies, U.S. National Library of Medicine, Jan. 2022, pubmed.ncbi.nlm.nih.gov/35248262/.
Sadler, Sean, et al. "Gluteus Medius Muscle Function in People with and without Low Back Pain: A Systematic Review." BMC Musculoskeletal Disorders, BioMed Central, 22 Oct. 2019, www.ncbi.nlm.nih.gov/pmc/articles/PMC6805550/.
Shah, Aashin, and Bruno Bordoni. "Anatomy, Bony Pelvis and Lower Limb, Gluteus Medius Muscle." In: StatPearls [Internet]. Treasure Island (FL), StatPearls Publishing, 25 Jan. 2022, www.ncbi.nlm.nih.gov/books/NBK557509/.
Stastny, Petr, et al. "Strengthening the Gluteus Medius Using Various Bodyweight and Resistance Exercises." Strength and Conditioning Journal, Strength and Conditioning Journal, June 2016, www.ncbi.nlm.nih.gov/pmc/articles/PMC4890828/.
Travell, J. G., et al. Myofascial Pain and Dysfunction: The Trigger Point Manual: Vol. 2:the Lower Extremities. Williams & Wilkins, 1999.
Whiler, Lisa, et al. "Gluteus Medius and Minimus Muscle Structure, Strength, and Function in Healthy Adults: Brief Report." Physiotherapy Canada. Physiotherapie Canada, University of Toronto Press, 2017, www.ncbi.nlm.nih.gov/pmc/articles/PMC5963550/.
Disclaimer
Professional Scope of Practice *
The information herein on "Lumbago Pain & Gluteus Medius Trigger Pain" is not intended to replace a one-on-one relationship with a qualified health care professional or licensed physician and is not medical advice. We encourage you to make healthcare decisions based on your research and partnership with a qualified healthcare professional.
Blog Information & Scope Discussions
Our information scope is limited to Chiropractic, musculoskeletal, physical medicines, wellness, contributing etiological viscerosomatic disturbances within clinical presentations, associated somatovisceral reflex clinical dynamics, subluxation complexes, sensitive health issues, and/or functional medicine articles, topics, and discussions.
We provide and present clinical collaboration with specialists from various disciplines. Each specialist is governed by their professional scope of practice and their jurisdiction of licensure. We use functional health & wellness protocols to treat and support care for the injuries or disorders of the musculoskeletal system.
Our videos, posts, topics, subjects, and insights cover clinical matters, issues, and topics that relate to and directly or indirectly support our clinical scope of practice.*
Our office has reasonably attempted to provide supportive citations and has identified the relevant research study or studies supporting our posts. We provide copies of supporting research studies available to regulatory boards and the public upon request.
We understand that we cover matters that require an additional explanation of how it may assist in a particular care plan or treatment protocol; therefore, to further discuss the subject matter above, please feel free to ask Dr. Alex Jimenez, DC, or contact us at 915-850-0900.
We are here to help you and your family.
Blessings
Dr. Alex Jimenez DC, MSACP, RN*, CCST, IFMCP*, CIFM*, ATN*
email: coach@elpasofunctionalmedicine.com
Licensed as a Doctor of Chiropractic (DC) in Texas & New Mexico*
Texas DC License # TX5807, New Mexico DC License # NM-DC2182
Licensed as a Registered Nurse (RN*) in Florida
Florida License RN License # RN9617241 (Control No. 3558029)
Presently Matriculated: ICHS: MSN* FNP (Family Nurse Practitioner Program)
Dr. Alex Jimenez DC, MSACP, RN* CIFM*, IFMCP*, ATN*, CCST
My Digital Business Card